Salon Trims Energy Bills with Solar!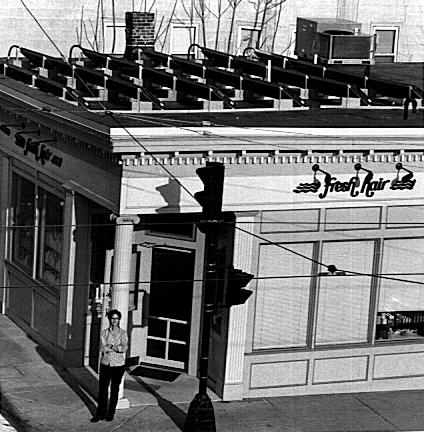 Owner Joy Silverstein in front of her Jamaica Plain Salon
Project Snapshot

Technology: Solar water heating system and gray water heat recovery system.
Size: Twelve solar collectors cover approximately 144 square feet of roof space. Solar storage tank can hold 250 gallons.
Date Installed: April, 2001
Annual Energy Needed for Water Heating: 752 therms, or 77.4 MBtu
Annual Energy Production: 50.3 MBtu from solar, 11.6 MBtu from gray water heat recovery
Project Cost: $9,400
Tax incentives: Pay for %40 of the project cost
Annual Energy Cost Savings: $636.50 (first year)
Annual Emissions Offset: 7,247 lbs of CO2
Location: 62 South Street, Jamaica Plain, MA 02130
Contractor: Alternate Energy, Plymouth, MA
Fresh Hair, a Jamaica Plain hair salon, is trimming more than just hair! The salon is cutting its monthly gas bills by heating its water with energy from the sun. In response to the sky-rocketing costs and continued health and environmental damage associated with conventional energy sources, Fresh Hair decided to become part of the solution to current energy problems. The salon installed solar equipment as part of a pilot program through the Massachusetts Energy Consumers Alliance (Mass Energy). Alternate Energy, Inc. of Plymouth, MA installed the solar equipment, as well as a gray water heat recovery system.
Typically, water is heated in one step. The water flowing into a building is heated from a temperature of about 50oF to about 120oF in a conventional water heating system that uses oil, natural gas or electricity as a heat source. Fresh Hair has taken a more creative approach, conserving and reusing heat so that their gas-fired water heating system can do less work and cause less pollution.

The heat recovery and solar energy equipment pre-heats the backup gas-fired water heater, so the heating process takes place automatically. On cloudy and cold days, the water does require additional heat from the gas-fired water heating system to bring it to the desired temperature. The salon does not have to worry about losing hot water because the backup gas-fired system always provides heat when necessary.
Solar equipment can make a big dent in a business's utility bills, and businesses are eligible for the most favorable tax incentives. Fresh Hair will recover over 40% of its initial investment through tax incentives alone over the first five years that the system is in operation.

Fresh Hair's investment will reduce heat trapping carbon dioxide emissions by approximately 72 tons over its lifetime (approximately 20 years). The salon's annual water heating expenses will also drop by about sixty-five percent (65%). Fresh Hair's solar investment is just one of the many ways the salon is working to improve the environment. "Fresh Hair has always tried to do the right thing for the environment by using natural products, recycling and using energy-saving lightbulbs where we can" said Joy Silverstein, owner of Fresh Hair.
Savings Analysis

System will pay for itself in savings by year 8!

Year

Savings

Cumulative

1

$636.48

*$1,581.88

2

$655.57

$2,237.45

3

$675.24

$2,912.70

4

$695.50

$3,608.19

5

$716.36

**$7,160.76

6

$737.85

$7,898.61

7

$759.99

$8,658.60

8

$782.79

$9,441.39

9

$806.27

$10,247.67

10

$830.46

$11,078.13

11

$855.38

$11,933.51

12

$881.04

$12,814.54

13

$907.47

$13,722.01

14

$934.69

$14,656.70

15

$962.73

$15,619.44

16

$991.62

$16,611.05

17

$1,021.36

$17,632.42

18

$1,052.00

$18,684.42

19

$1,083.56

$19,767.98

20

$1,116.07

$20,884.06
With New Federal and pending state tax incentives, the breakeven point on a comparable project today would be even sooner.