Apricus Solar Collectors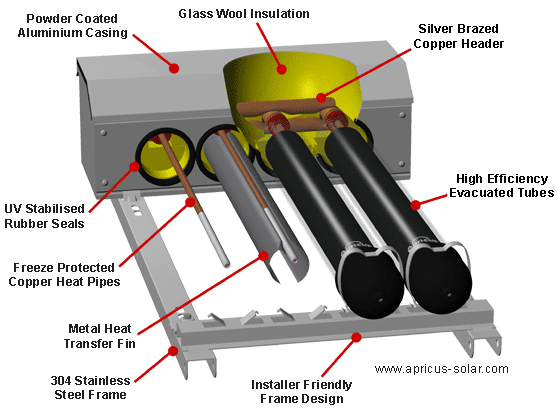 Apricus Solar Co., Ltd is an Australian-Chinese joint venture company which designs, manufactures and exports high quality thermal solar collectors, waste heat recovery systems, solar controllers and related components.
Apricus Solar's range of renewable energy products are sold under the Apricus trademark and exported worldwide through a network of official distributors, such as Alternate Energy LLC. .
Products are designed and manufactured to meet international product quality and engineering standards, and have a strong emphasis on simplistic design and ease of installation and use.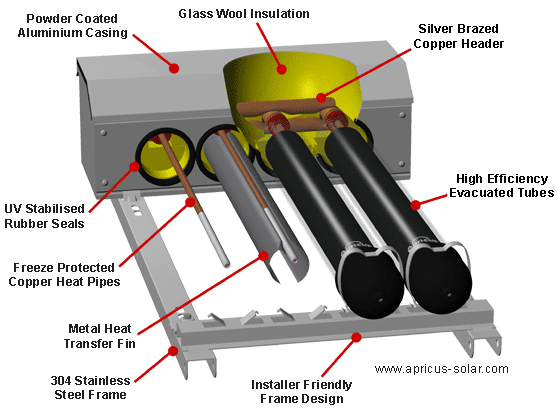 One of the innovations of the Apricus collectors is a highly efficient evacuated tube design which is more effective in transferring solar energy into the water running through the collectors.
In the past, an evacuated tube design was exceptionally expensive, making it cost prohibitive for many home owners and small businesses. Now that the manufacturing cost of evacuated tubes has dropped, Alternate Energy LLC. is able to install the most efficient systems in the world at a price within reach of the average consumer.
Alternate Energy has imported, sold and installed 3 container loads of Apricus Solar collectors, about 240 30-tube panels in various system sizes and configurations. Though we have found an improved brand of collector, SunMaxx, we still service any Apricus system.